Membrane Roofing
You can install a Latchways ManSafe fall protection solution incorporating the Constant Force Post on all the major membrane roofing systems including single-ply and bituminous on steel, concrete and timber decks. The system operates horizontally and along inclines and can be designed to accommodate up to three simultaneous users.
The Constant Force Posts are top fixed to the roof sheet with mechanical anchors or toggle bolts by a process that does not compromise the integrity of the roof. Equally important, in the event of a fall, all the loads generated on the system are absorbed by the Constant Force Posts and therefore no damage is impacted on the roof sheets to which they are attached.
To enhance the overall aesthetic appearance, the Constant Force Posts can be supplied colour matched to the roofing sheets.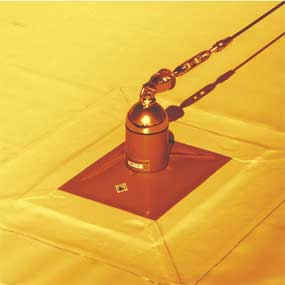 Home | Systems | Services | OSHA Regs | Links | Customers | Contact
Installation
Single-ply steel deck component and plan detail
Single-ply concrete deck

This diagram shows how the details change for concrete deck

Single-ply timber deck

This diagram shows how the details change for timber deck
Fixing details - Steel deck common base plate fixing centres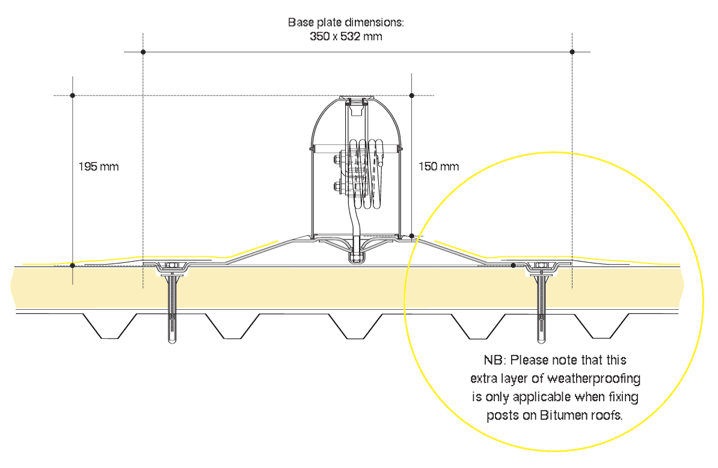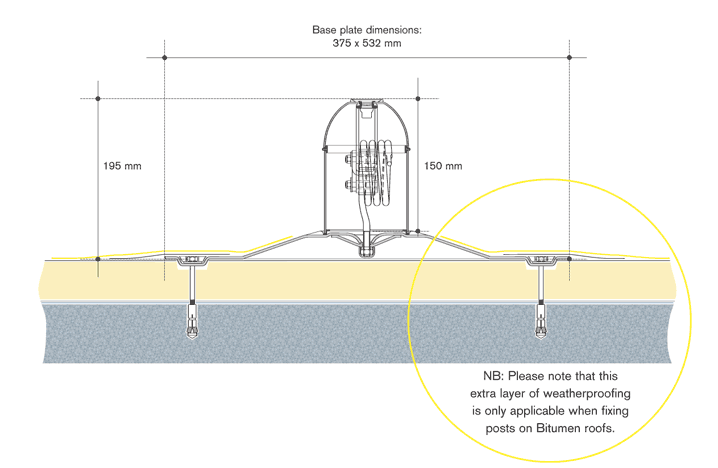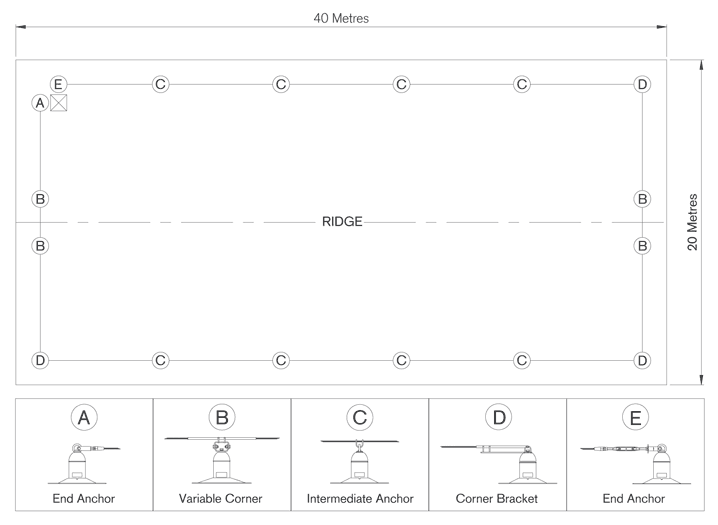 Testing / Maintenance
System testing must be conducted annually to ensure that system certification is maintained. Key system checks such as integrity of the Constant Force Posts, swage tests and torque checks are part of this process. System testing and maintenance should only be undertaken by trained and certified installers. Contact us at safety@fallcert.com for details.
User Instructions

Only attach to the system by means of a retractable fall arrest lanyard and full body harness conforming to the appropriate safety standards.

Always check pre-tension before use.

No more than the maximum number of personnel as defined in the system user instructions should attach to the system.

Further details are available in the user instructions.

Latchways' ManSafe fall protection solution incorporating the Constant Force post can be deployed across virtually all the major membrane roof types.